Fun Summer Team Bonding Events
Much as we would love to have everyone join the team at these events, non of the summer team bonding events are mandatory.  We can not provide transportation or arrange carpool.
Activity Dates 2023:
Watermelon Eating Contest: Thursday, July 20th after your run, Location: El Toro HS
Team Bowling Night: Tuesday, July 25th @ 5:00 PM to 6:30 PM, Location: Lake Forest Lanes
Water Balloon Fight: Wednesday, July 26th after your run, Location: El Toro HS.  Donate balloons (bunch of ballon type), and/or bring any squirt guns, water blasters, etc.
Morning Beach Fun Run: Saturday, July 29th @ 8 AM, Location: San Clemente Beach (right side of the pier), BBQ afterward.  Please pick up all runners by noon.
See recaps from the previous year's summer team bonding events below!
Watermelon Eating Contest
Who can eat the most and fastest?  Get your teams together and see if you can out eat the coaches. Lake Forest Sports Park
2019 Recap: 10 watermelons, 4 teams, only one winner. Team 3, the boys varsity team, was stacked with fast eaters however they were disqualified for jumping the gun! Team 1, the girls team, played a strategic game by eating multiple pieces at once! That team however was no match for team 2, the freshman boys and Grace, as they played an even more strategic game by secretly placing slices on the table of team 4. Team 4, the sophomore boys, definitely won……messiest table. Overall winner? Everyone wins when you get to eat fresh cold watermelon after a good long run!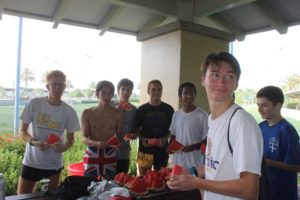 Bowling Night – Tuesday, Aug 9, 2022, 7:00 pm to 9 pm
$10 for 1:20 of bowling and shoes. RSVP by August 3 to Coach Sydney at sydneychai@yahoo.com.  Prizes will be handed out to the winning team. Vintage uniforms and spirit wear will be handed out as well.
Lake Forest Bowling Lanes: 22771 Centre Dr, Lake Forest
2019 Recap: Strike! Spare! Gutter? Our second team bowling night was a success and a new record number of gutter balls was set but this year by the girls. With over 40 athletes in attendance, it was a great time to bond, play arcade games and enjoy some good bowling. All athletes walked away with a handful of vintage uniforms, warm-ups, bags and a good time had! Thanks to everyone who came, let's keep the ball rolling!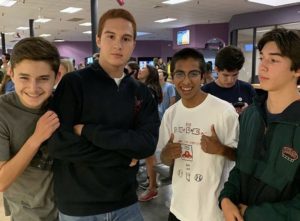 Super Soaker Saturday – Combined with Water Balloon Fight for 2022
Come get soaked or soak someone including coaches!!  Bring your Super Soakers!!
El Toro Track
2019 Recap: Athletes, coaches, parents…. no one was safe from the super soakers today! Coach Chai who was "untouchable" was the first one to be hit with a super soaker!  Athletes sore from Coach Moore's tough core workout sought revenge and got it with a bucket full of cold water. With limited super soakers available, athletes used anything they could get their hands on! Cups, buckets, cones… you name it! Everyone loved cooling off and soaking the coaches on the hot summer day!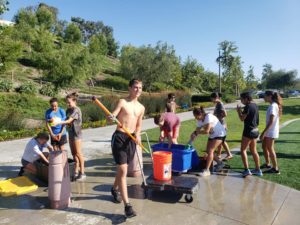 Water Balloon Fight – Saturday, August 13, 2022, after our morning run
We would love extra balloons.  Bring as many as you like.  No need to fill them this year.  We will do it for you!!  You may bring a sponge/Super Soaker to use as well. Get ready to get soaked… Please bring a towel to dry off.
El Toro HS Stadium
2019 Recap: 1000, 2000, 3000, 4000, 5000 Water Balloons! A new record was set for our 3rd annual water balloon fight! Trash cans and buckets and coolers, everything was being filled with balloons! Our athletes had a great time throwing water balloons not only at their teammates but also at their coaches. It felt amazing to cool off after a long morning of running miles. Thank you to everyone who donated balloons, next year 7000 balloons?!
Beach Fun Day/Pizza/S'mores/Bonfire – Friday Aug 13, 2021, 4:30 pm to 8:30 pm
Come and have a fun afternoon/evening at the beach.  Parents – come and meet other parents/athletes/coaches.
Aliso Creek Beach – 31131 S Pacific Coast Hwy, Laguna Beach
In need of parent volunteers to transport runners/food donations. Please contact Coach Bark at carolbark@yahoo.com
2019 Recap: Our varsity guys and girls got in a great second run with a beautiful view of the ocean while their teammates cooled off in the water. A few sophomore boys were buried in the sand while the freshman girls played volleyball. Once the sun went down our tired athletes came to relax by the bonfire and roast smores. Our freshman boys of course had a different idea, they roasted anything they could, fruit and veggies you name it. The night ended with singing happy birthday to Ian and enjoying a big slice of cake! THANK YOU to all the parent volunteers for driving our athletes, bringing food, and making this day a success!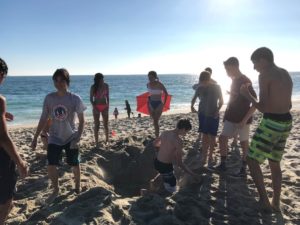 Movie Night
Popcorn will be provided
Lake Forest Sports Park – 28000 Rancho Parkway, Lake Forest
2019 Recap: Candy and popcorn, hot chocolate oh my! Although Coach Chai's nutrition seminar might not recommend our selection of snacks for movie night our athletes sure enjoyed them! The well-deserved night off for these athletes was a success! Blankets were spread out on the grass and popcorn was being popped as they laid back and enjoyed Maze Runner under the stars.